St. Jude Dream Home
by Greenhouse Fabrics on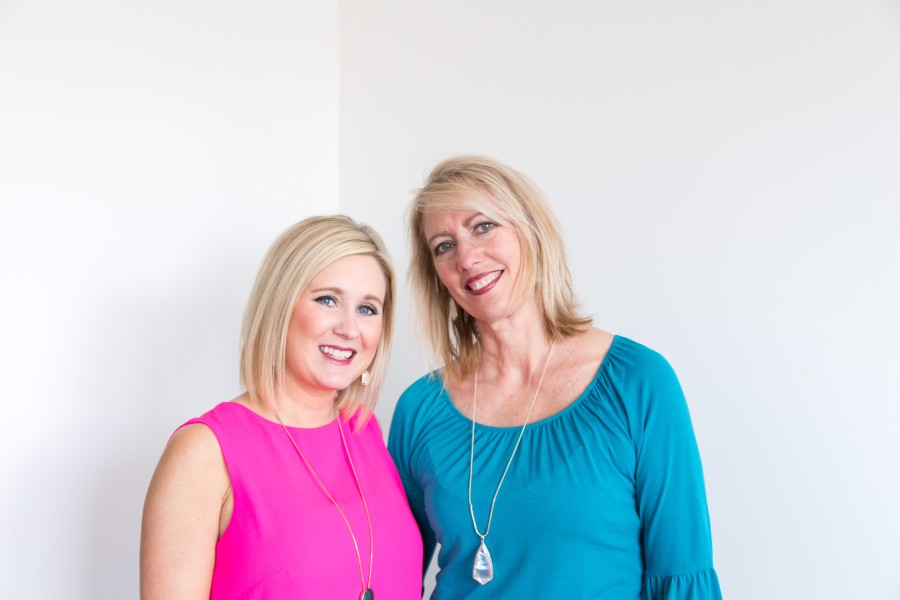 written by Loree Johns 
ABOUT LOREE
Loree Johns has been an Oklahoma City designer for nearly twenty years. She has a team of five representing Loree Johns Interiors, including designer Kelli Nichols. With her own workroom staff of Jeannie Sikes and Sandy Rupp, Loree's clients receive maximum quality craftsmanship and installation by the drapery creators themselves. Loree Johns Interiors is a full service firm providing interior and cabinetry design in new constructions—to remodels— to custom draperies, and everything in between. They specialize in making an existing home dreamy or helping create a new dream home.
Honored to be asked to stage the home year after year, Loree never tires of volunteering for St. Jude or the challenges of being true to the design of each different home. "Every home has a distinct personality, so furnishings, artwork, rugs and fabrics must be selected accordingly". 
ST. JUDE 
In case you are not familiar with all St. Jude does for children, here are some facts:
"St. Jude is leading the way the world understands, treats and defeats childhood cancer and other life-threatening diseases. Consistent with the vision of founder, Danny Thomas, no child is denied treatment based on race, religion or a family's ability to pay". 
The Dreamhome Giveaway is a huge part of the puzzle in funding research and treatment for these children. "It's a win-win. Every ticket sold, helps St. Jude kids and the mission of St. Jude: Finding cures. Saving children.®" The amazing fact about St. Jude is, "families never receive a bill from St. Jude for treatment, travel, housing or food — because all a family should worry about is helping their child live."
STAGING THE ST. JUDE DREAM HOME 
Included in my staging are always custom drapes and pillows for the living room, and pillows for the master bedroom. The labor is all donated by my workroom. Two years ago the light bulb went off, and I decided to ask Greenhouse Fabrics if they would like to also partner with St. Jude by providing the fabrics. Of course I was thrilled when they said yes!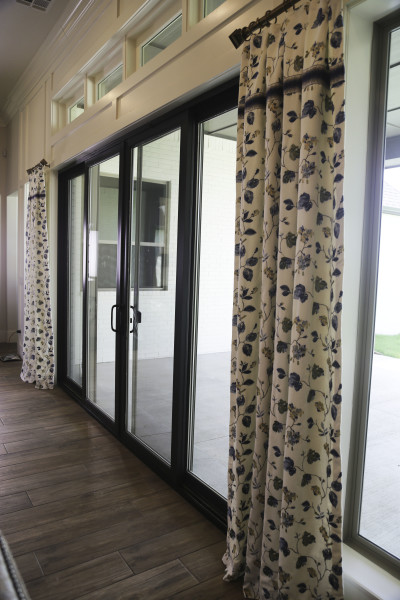 The living room pinch pleated drapes needed to be light and airy to follow the theme of this urban farmhouse. So for the curtains I chose B8340 Harbor, a lovely embroidered fabric with a creamy white background and elements of blues and greens.
Boasting some Scandinavian elements of clean lines and bright whites, this home begged for pops of color to balance the indigo painted fireplace and bookshelves. So I chose to place a grey linen sectional in the room with fluffy white pillows and custom pillows of B8355 Ocean for a striking geometric. And since florals are a strong fashion and design trend, I finished off the scenario with B9336 Cornflower as the floral print.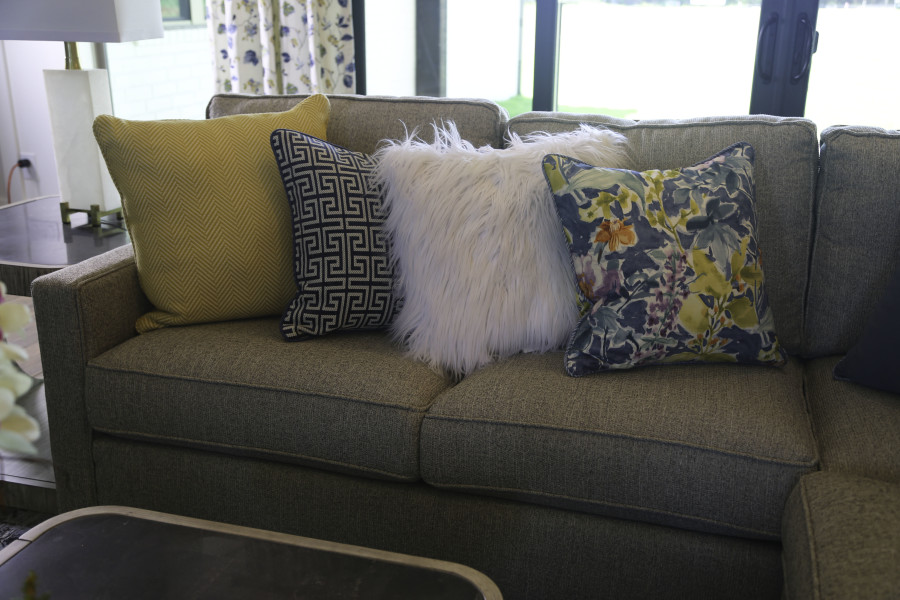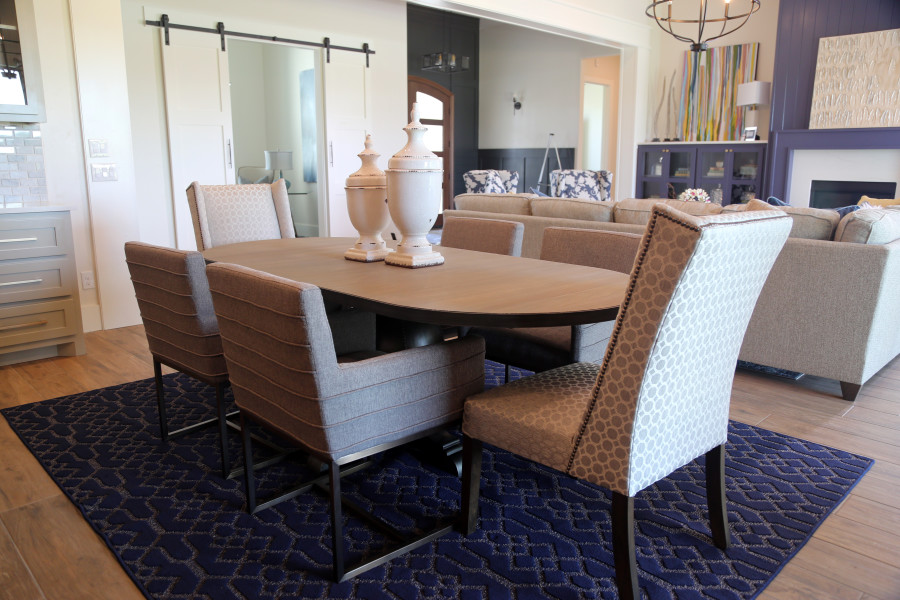 Along with the rest of the country, I am so in love with velvet, I knew I had to have two rich blue pillows in B8348 Lake for the sectional. In front of the fireplace I added a bench with a fun green, white and blue toile fabric B9625 Grass to "pop" against the navy fireplace. All piping and backs were B7395 Denim.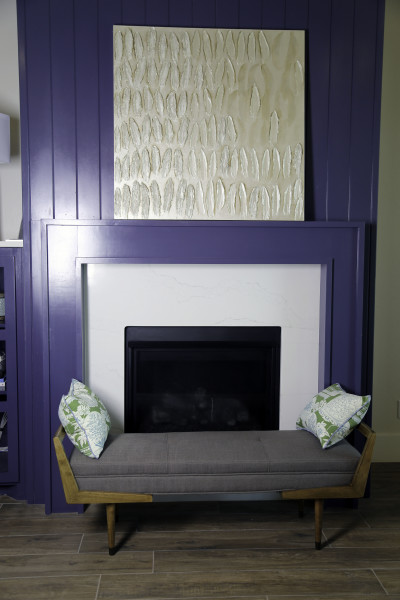 For the bedroom I had a wild and crazy rug in indigo, white, grey and yellow, and an awesome leopard bench, but needed pillows to pull it all together with the navy and cream bedding. When I stumbled upon B9310 Blue, I knew I'd found the perfect fabric for two bolster pillows which made the simple quilts sing. I used B9311 Periwinkle for the piping.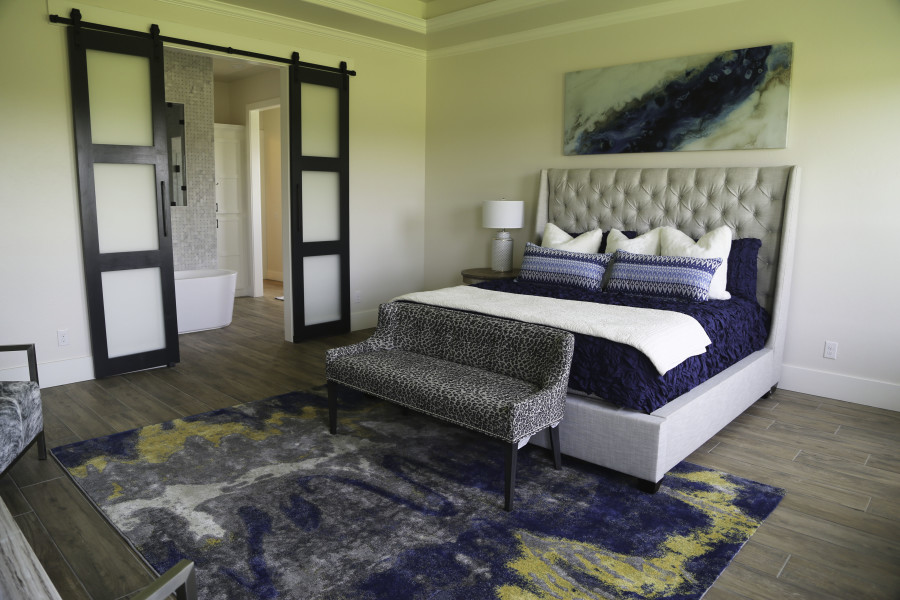 MAKING DREAMS COME TRUE
More than forty Dream Homes will be given away this year. Together St. Jude is "helping end childhood cancer — and making dreams come true for our winners."
The lovely home in OKC was constructed by Foster Signature Homes who made it very easy for me to decorate with its classic styling and muted pallet. I had an automatic color palate to go from with their choice of indigo accent paint.
Valued at over $700k, the $100 raffle tickets sold out before the deadline and all proceeds went to St Jude. I cannot express my gratitude to Greenhouse Fabrics enough for allowing me to select these gorgeous fabrics to be the icing on the "design cake" for this 2018 Dreamhome.
-Loree Johns