At Anna Elisabeth and Greenhouse Fabrics, shipping related questions are among the most common inquiries that we receive. In selling directly to the trade, we realize the importance of being able to predict and manage fluctuating charges to protect your margins while continuing to operate at your best! 
In order to meet the distinct needs of our customers, we offer several options to have your fabrics shipped directly to you or your customer. In this blog, we will detail each of those options, their distinct benefits or limitations, and how you can tailor your ordering process to take advantage of cost savings.
For one yard memos and orders 4 yards and under, we offer FedEx shipping in an envelope or medium to large box. This shipping method offers more predictable freight charges ranging from $13-$25 based on weight and package size. Our dedicated sales representatives will check with you before using this shipping method as it requires us to fold the fabric. This method is never suitable for velvet , vinyl , or some chenille fabrics .  
For larger orders and materials that cannot be folded, we always ship UPS ground. These orders go on a dowel, and final shipping costs are based upon weight, dimensions, and fuel surcharges, which can vary from week to week. If you're ever in doubt about what to expect as far as shipping charges on a particular order, give us a call! We are happy to give you an estimated range based on similar orders that have left our warehouse or provide you an estimate using the UPS website. With that being said, we never know the exact shipping amount until the package is cut, wrapped, and scanned by the carrier.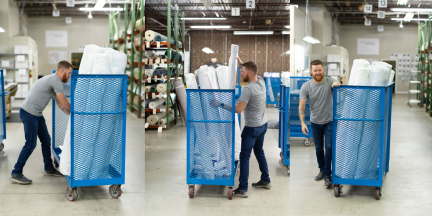 We work with many customers who have shipping accounts with FedEx or UPS. If you'd like to use your own shipping account to fulfill your fabric orders with us, all you need to do is provide your account number and we will add a note to your shipping preferences. 
With FedEx, Greenhouse can use your shipping account to ship boxes, but for orders on a dowel you are welcome to email us your own shipping label for us to use. 
For smaller orders 4 yards and under, if your fabric is able to be folded, let us know that you'd like to fold & ship via FedEx! This will save you money by not putting your fabric on a dowel. Also, if you're ordering online, feel free to leave us a comment indicating that you're okay with folding to ship.
For fabrics that must go on a dowel, we always suggest placing multiple orders to ship together when possible. If you tend to place several smaller orders each week, it could benefit you to save those and place them at the same time - we can roll fabrics together on the same dowel to save you money!
When you need your fabric as soon as possible, we are happy to upgrade your order to expedited shipping. However, there are a few factors to consider before you commit to 2nd day or next day air:
Charges for expedited shipping - depending on weight and dimensions, charges for expedited shipping typically exceed $150
Expedited shipping is not guaranteed! Via UPS and FedEx, orders are not guaranteed to arrive within the window estimated by them.  
Here are our tips to ensure timely shipping without paying to expedite:
Order before 3PM EST - we ship out all in-stock fabric orders that are placed before 3 PM SAME DAY! If you are close to the cut off time, please call rather than placing your order online. Online orders are not guaranteed same day shipping.
Ensure that billing & ship to address are up-to-date. It is easy to forget an apartment number, suite number, building, etc. Any issue with your payment method or validation of your address could delay the fulfillment of your order. 
Wondering where your order is in relation to you? Once your package has been scanned in, you will be emailed a final copy of your invoice as well as a tracking number for your package. That link should give you up-to-date information on the expected arrival date of your package. If you're having difficulty accessing your tracking information, give us a call and we'll be happy to look into it for you!
Shipping is a service we all rely on in order to operate our businesses. We hope that this information offers a more complete understanding of our policies and common inquiries regarding shipping. If you have any unanswered questions, never hesitate to reach out to our Dedicated Sales Representatives at 866-755-5000 today - We're here to help!