In today's fast-paced world, time is of the essence and seamless experiences and exceptional customer service has become a hallmark of successful businesses. At Greenhouse Fabrics, your satisfaction is the cornerstone of our success. That's why we proudly stand behind our comprehensive Customer Service Guarantee, designed to make your purchase experience not only convenient but truly delightful.
Same Day Shipping: Your Order, Swiftly Delivered
We value every moment you spend shopping with us. With our Same Day Shipping promise, any order placed before 3 PM EST is guaranteed to be shipped out on the very same day. We understand you have project deadlines and eager clients. That's why we have streamlined processes that ensure your items are dispatched promptly, reaching your doorstep in record time.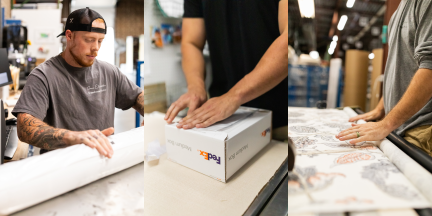 Discover with Confidence: Free Sample Books and Memos
We believe in empowering our customers to make well-informed decisions. That's why we offer free sample books and memos to help you explore our fabrics before making a commitment. We understand that online shopping can sometimes feel uncertain, especially when it comes to textures, colors, and finishes. Our samples allow you to experience the quality and beauty of our products firsthand, eliminating any doubt and helping you choose with confidence.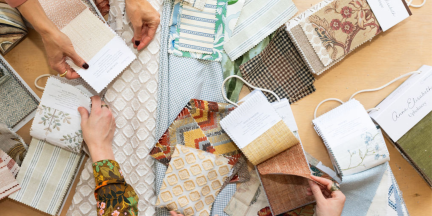 You Call, We Answer: Human Connection
In an era dominated by automated responses and digital interactions, we believe in the power of human connection. Our "You Call, We Answer" principle ensures that whenever you have a question, concern, or simply want to chat, a real person will be there to assist you during our operational timeframe. No navigating through endless phone menus or waiting on hold for hours. Your time is valuable, and we're here to provide real-time solutions to your queries.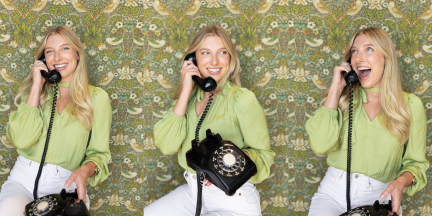 We'll Make It Right: Your Satisfaction, Our Priority
Mistakes can happen, but we're committed to rectifying them swiftly and effectively. If you ever receive a product that doesn't meet your expectations, let us know. Our "We'll Make It Right" pledge means that we'll work diligently to resolve the issue to your satisfaction. Whether the resolution is a replacement, a refund, or personalized assistance, we're dedicated to turning any hiccup into an opportunity to showcase our dedication to your purchasing experience.
At Greenhouse Fabrics, our mission goes beyond selling products – it's about delivering exceptional experiences. Our Customer Service Guarantee is a testament to our commitment to your satisfaction. From same-day shipping and free sample books to human-centered interactions and our unwavering resolve to fix any issues, we're here to make your purchasing journey smooth, enjoyable, and ultimately, worthy of your trust.
Thank you for choosing Greenhouse Fabric. We look forward to serving you and exceeding your expectations every step of the way.