What's the Difference? This vs.That
by Greenhouse Fabrics on

by Melissa Wolck
You have probably been confused by some of the fabric industry terms before, either when buying fabric for your projects or when trying to explain them to your customers. It is very easy to overthink the meanings and become totally confused. So let us clear up any questions you may have. It could save you time and money on your next upholstery or interior design project!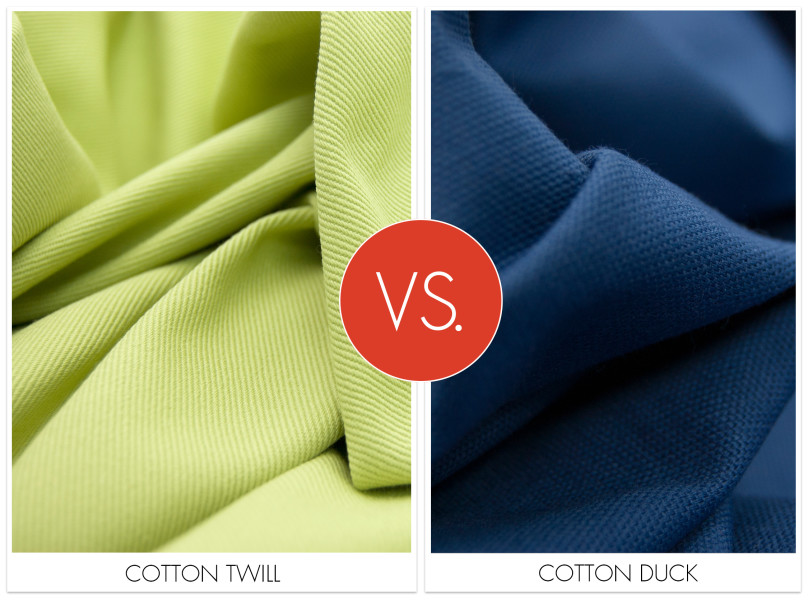 COTTON TWILL
Cotton twill is probably most recognized as the style of fabric used for denim jeans. It's a great option for clothing as well as slip covers and upholstery applications, because of its durability, softness and resistance to wrinkles.The cotton twill fabric shown on the left, is woven in a series of parallel diagonal ribs. These ribs can range from barely noticeable to very noticeable depending on the thickness of the yarn.
COTTON DUCK
Cotton Duck, is also known as, Canvas Duck. Cotton duck fabrics are very weighty and durable, sometimes even a little stiff, but they are washable and will wear in over time becoming very soft and comfy. The cotton duck fabric shown on the right is tightly woven using a plain weave method like a basketweave...over...under...over...under. This creates a very durable fabric with a smooth surface.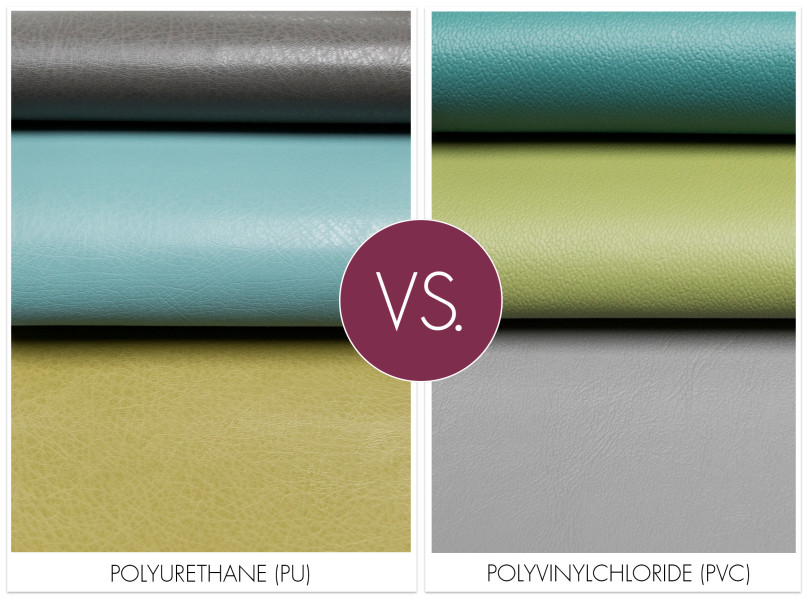 POLYURETHANE - PU
Polyurethane (PU) is a composite material made of one or more layers of PU and a woven or non-woven textile backing such as bi-cast or ground leather. This fabric provides the most realistic imitation of leather when it comes to its soft supple hand. It is also known to wrinkle like leather when gathered, stitched, or tufted. Its light weight body makes it inherently more breathable than PVC.PU is known to be a greener alternative to PVC in both production and after-care. 
POLYVINYLCHLORIDE - PVC
Polyvinylchloride (PVC), also commonly referred to as vinyl, is essentially a flexible plastic made from PVC resin, various fillers, and additives such as plasticizers to manipulate its softness, color and texture. Once the desired fillers have been added, PVC is used to coat one side of a knit or woven fabric backing and sometimes a center layer of foam. This versatile fabric provides a durable surface that is impervious to moisture and inherently flame resistant, making it ideal for marine, healthcare and high traffic hospitality and commercial environments. The environmental effects of PVC have continued to improve over the years, lowering emissions and hazardous waste.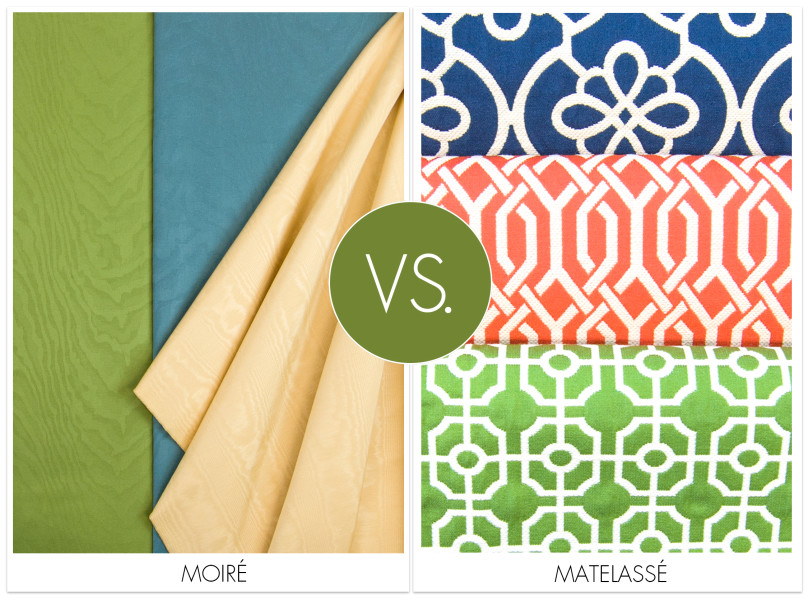 MOIRÉ
Moiré, pronounced MOORE-A, comes from the French word moiré meaning water. This distinct watery or wave-shaped pattern can be achieved through a finishing process performed after weaving, printed on top of a base cloth or woven into a fabric from the start. The moire pattern has been around for centuries and continues to be a favorite among interior and fashion designers. There have been many, many variations of moire fabrics produced with a myriad of patterns, fiber contents, and processes; solids, silks, cotton blends and printed moire fabrics.
MATELASSÉ
Matelassé, pronounced MAT-LUH-SAY, is derived from the French word Matelasser, meaning to quilt, pad, stuff or cushion. The soft, puffy fabric closely resembles the look of a hand quilted piece, yet is typically woven on a jacquard loom in a "double cloth" or "pocket" weave. It is often referred to as a pocket weave, because an opening or "pocket" exists, creating a fabric that appears to have batting or filling between the layers. Although the three dimensional fabric is ordinarily offered in its classic tone-on-tone color scheme, two-tone and multicolored designs have become popular in today's market.
I hope this gives you a better understanding without getting into the technical details and will be a helpful resource for explaining the differences between fabric patterns and constructions to your own customers. 
Let us know if you have any questions or blog topics you would like to see added to our site. We love to be your number one resource for all things fabric!