What to Consider When Selecting Outdoor Fabrics
by Greenhouse Fabrics on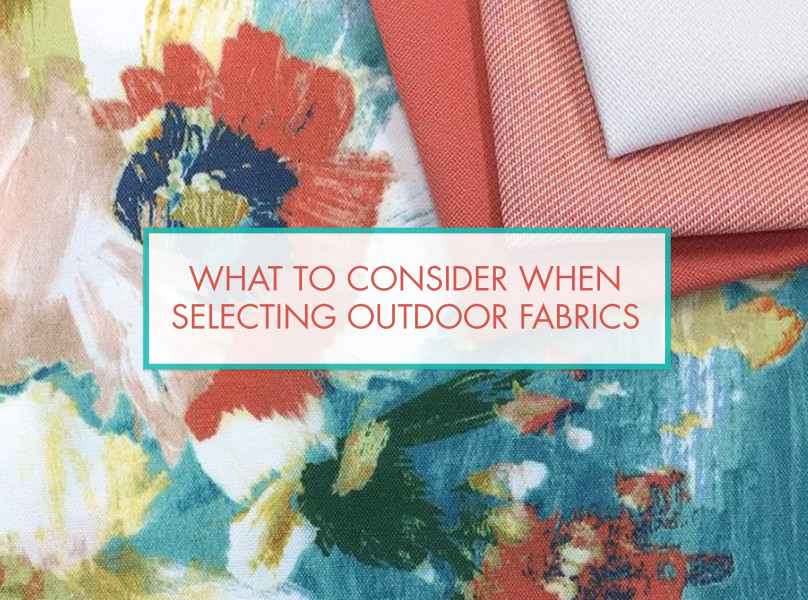 written by Melissa Wolck
It's that time of year again. Warmer weather is just around the corner. It's time to start thinking about new outdoor cushions and pillows! But with all of the outdoor fabric options available, how do you choose? Let's discuss some of the characteristics and features of outdoor fabrics that you should consider before you make your selection.
Types of Yarn & Dyeing Processes
Solution Dyed Yarns - Acrylic/Polyolefin/ Polypropylene/Polyester
Outdoor fabrics woven with solution dyed yarns are resistant to color fading. These yarns are dyed during the liquid polymer state, receiving their color before being spun into yarn. The color becomes part of the yarn itself, making it much more resilient to harsh sun exposure.
Fabrics made from solution dyed yarns are durable, yet have a soft, flexible hand. These fabrics have a high abrasion rating and are resistant to pilling, ensuring a longer lifespan.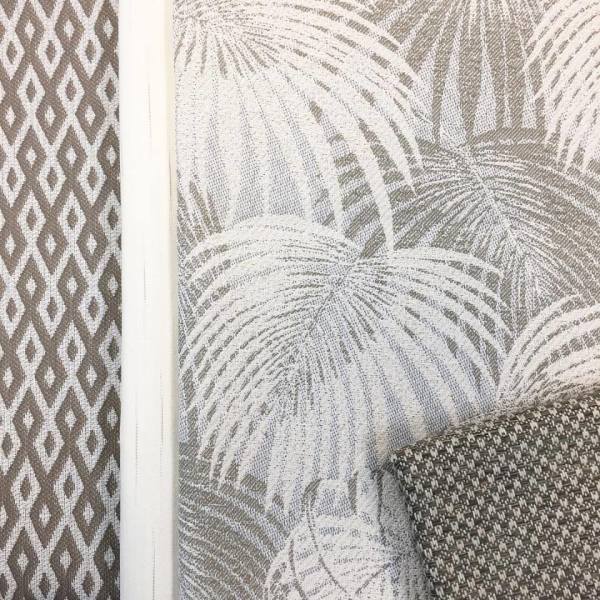 Spun Polyester Prints
Spun polyester is made up of several thin pieces of polyester yarn. Fabrics woven with spun polyester are often inexpensive, quick drying, and weather resistant. The spun-poly base cloth is typically screen printed with dyes to create intricate patterns in vibrant colors.  These fabrics offer an endless variety of pattern options and bright, saturated colors. However, since the dye is applied only to the surface of the fabric, they do not provide the same resistance to fading as solution dyed fabrics. Because of this, spun polyester fabrics are not recommended for use in areas with long hours of direct sun exposure.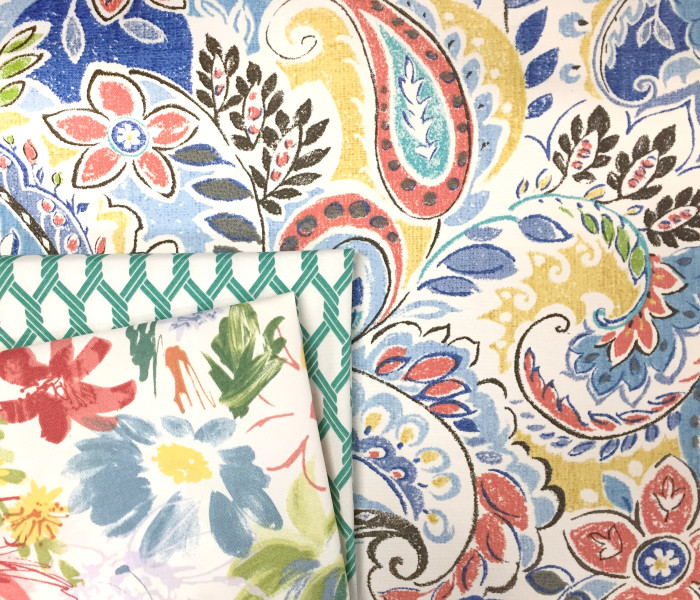 Lightfastness Rating
During warmer months, we enjoy longer daylight hours, but that means our outdoor fabrics are exposed to sunlight for longer periods of time too. When deciding which outdoor fabric is right for your space, take a look at the lightfastness or colorfastness rating.
This number represents the approximate number hours a fabric can withstand sun exposure before showing signs of color fading. The number usually ranges between 500 and 2000 hours, but keep in mind, this is the number of hours before ANY color fading is noticed. It doesn't mean that the fabric will be completely faded after 500 hours in the sun.
Another factor that will affect a fabric's resistance to fading is the sun's intensity. Will your outdoor furniture be in direct sunlight or on a covered patio in the shade? Also, take geographical location into consideration. For example, 500 hours of sun exposure in New York is different than 500 hours of sun exposure in Nevada.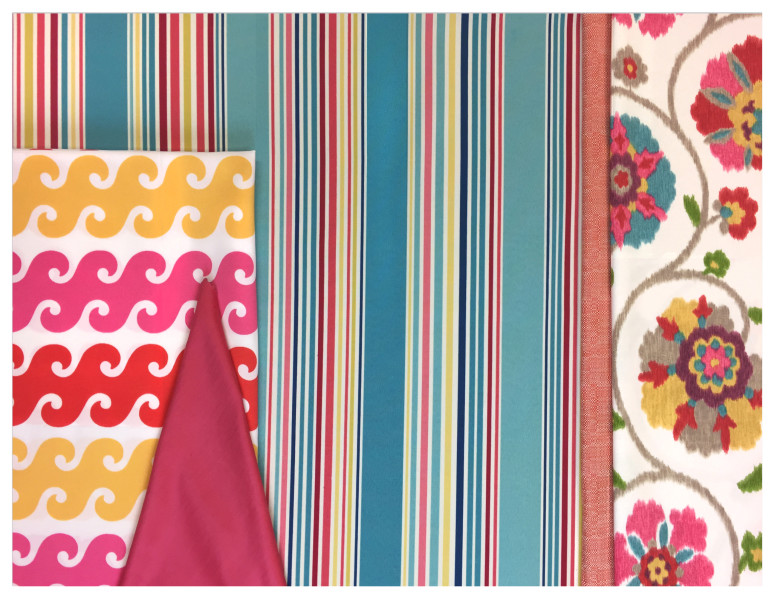 Cleanability
Solution dyed fabrics are bleach cleanable which makes them ideal for outdoor use. They are inherently resistant to water, mold, and mildew, and because they can be cleaned with bleach, it is easy to prevent them from becoming damp and dirty. We suggest mixing 1 cup of bleach with a gallon of water to create a mild bleach solution.
Spun polyester should be spot cleaned with a mild soap or detergent. NOT BLEACH. As mentioned before, these fabrics are screen printed and the dye only penetrates the surface. It is not safe to use bleach.
Regardless of the fiber content or dyeing process, all outdoor fabrics should be cleaned regularly. Even fabrics that are mold and mildew resistant are subject to these problems. Mold and mildew can grow on soiled areas that are not cleaned properly.
For general cleaning:
Brush off loose dirt
Lightly spray a mixture of warm water and mild soap.
Use a sponge or soft bristle brush to clean.
Rinse thoroughly and allow fabric to air dry. I repeat, rinse thoroughly.
This is the most important step when cleaning your fabrics. You do not want to leave dirty water or cleaning residue on your fabrics.
Other Care Tips
Cover or store outdoor cushions and pillows when not in use, especially throughout winter.
Clean your outdoor fabrics regularly to prolong their lifespan.
Do not wrap in plastic. Fabric needs to breathe.

Make sure that cushions are completely dry before storing.
For more fabric tips and information, Subscribe to our weekly blog email.