What is a Classic Fabric?
by Greenhouse Fabrics on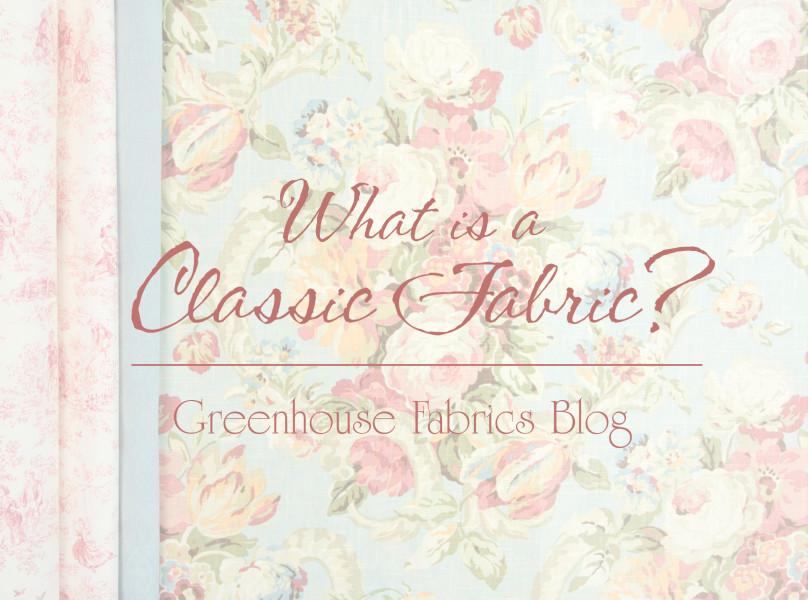 Written by Tiffany Tolliver
Classic is by definition: of enduring interest, quality, or style.  Fabric patterns carry an element of historic design from the past, however, there have been slight changes to the design adapting the pattern to our culture and our definition of beauty today.  The changes made to patterned fabric could come from a variance in the scale, the type of yarns, the type of weave used, or an evolving definition of what the pattern is. 
The damask pattern is a perfect example of this.  A true damask is reversible with the same pattern on both sides created by alternating satin and sateen weaves.  These can still be found, but most commonly, the damask pattern today is in reference to the "look" from the original French damask designs.  The traditional floral medallion that originally made up these fabrics has adapted over time to include prints with this pattern and also fabrics with different weaves than the traditional satin and sateen weaves.             
The French are well known in establishing patterns that transcend time.  Two fabric styles that have been incorporated into design for centuries are French Toiles and French Floral Medallions.  Below are examples of how these patterns have evolved.  
French Toile
The first Toile patterns we think of when the word comes to mind were actually created in Ireland in the mid 18th century and quickly spread to Britain and France.  The full name "Toile de Jouy" was coined in France when the design took off in the late 18th century.  Translated, this means, "cloth from Jouy-en-Josas" which is a town in the suburbs of Paris.  This has sense been shortened to "Toile."  Traditionally, this pattern has a white or off white background with a repeated pastoral scene of a couple by a lake or a bouquet of flowers.  The pattern is one solid color, usually black, red, or blue.  Since its inception, the pattern has been continuously produced with occasional spikes in interest such as in the colonial era in the United States and then in the year 2,000.  Today toiles can be found in large or small scale, white backgrounds or inverted, and one color or more.  They also add detail and elegance to furniture, draperies, and clothing.
French Floral Medallions
The French medallion decorates fabric, furniture, floors and ceilings throughout French homes and palaces in the 18th century and onward.  In these ornate designs, there is a central focal point that is most commonly a floral or scroll pattern, a multi-colored scene or a mixture of all three.  Traditionally in light or pastel colors of pink, green, and blue, this detailed pattern represented sophistication and royalty as it was used in multiple rooms throughout the Palace of Versailles in Paris.  Today, the pattern can vary in color, scale, and weave as it is woven in rugs, printed on fabrics, and painted on décor. 
These classic patterns offer a look of timeless style and tradition, is there a classic pattern that has inspired you?  Share with us through one of our social media platforms below.