Turning Up Technology
by Greenhouse Fabrics on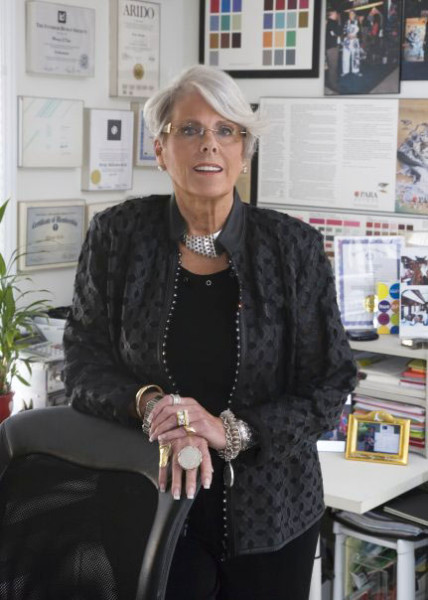 Greenhouse Fabrics works with many talented interior designers, sewists, and upholsterers. As we discover new fabric styles, patterns, and colors, we look for ways to share our inspiration and love of fabrics. Margi Kyle, IDS, ASID, CCC, DCI, The Designing Doctor, LLC is an award winning interior designer and educator. Margi's mission is to use all her expertise and experiences to motivate, rejuvinate, and educate her clients through their design journey to embrace their world. We are thrilled to have her share some of her knowledge and advice with our readers.
Years ago, when I began my interior design business, it took weeks to find the perfect fabrics and furniture pieces to put them on. By the time memo samples were sent, pricing was provided, and I knew the fabrics were in stock, my clients often became frustrated with the slow process and began shopping on their own. I had to find a better and faster way to do business! 
It is hard to sell what our clients can't see. Interior design is a tactile industry. We want to feel the fabric and let our hand tell us how to best use it. In the design business, we have been selling the invisible for years, but today, we have the tools to provide our clients with great visuals. We no longer need to get in our cars and drive into the city to find the perfect fabric. Technology has totally changed our way of communicating and doing business.  We have learned to "Find it first-Feel it later!"
I recommend starting your project with the design problem that is creating the most frustration for your client. It may be transforming a child's room into a guest room. Begin by selecting a few fabric ideas to give it a fresh look. Floor plans and drawings can be presented later on. You want your client to know you are working for them and you have the solutions for their home.  
Today, with all of the technological advancements, we can confidently show clients our fabric suggestions, along with many other elements of design within just 3 or 4 hours of meeting. The last thing I say to my clients when I leave is, "Check your email." Thanks to technology and companies like Greenhouse Fabrics for providing us a faster way to shop, I can quickly select colors, fabrics, and furniture ideas to share with my clients.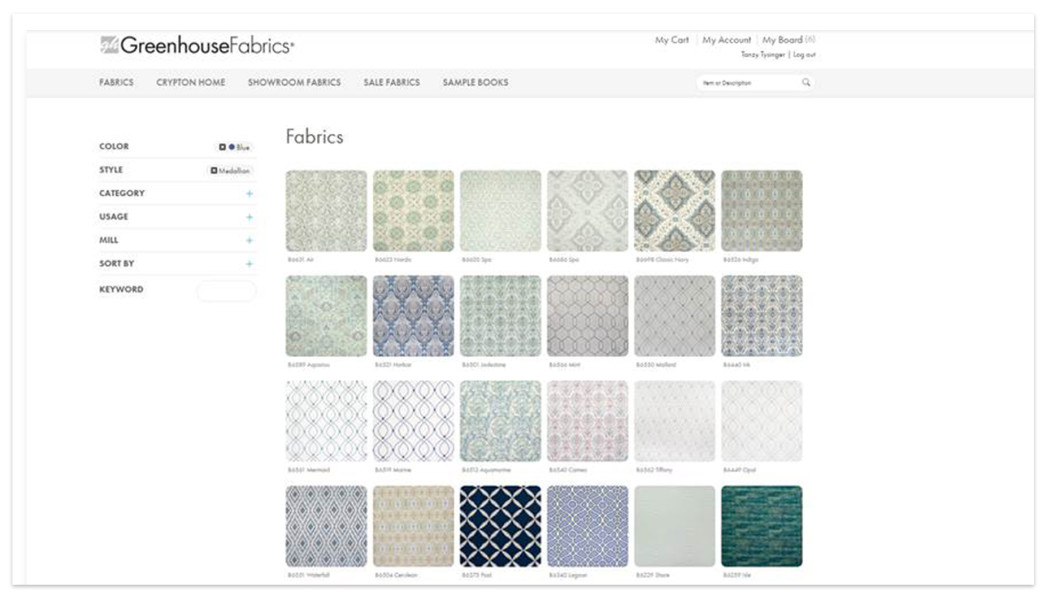 Searching for the perfect fabric on Greenhouse Fabrics website has never been easier. You can do it by color, style, category, application, or book. Once you find the perfect fabric, just click on it to find all the info you need, like pricing, stock availability, fiber content, and abrasion rating etc.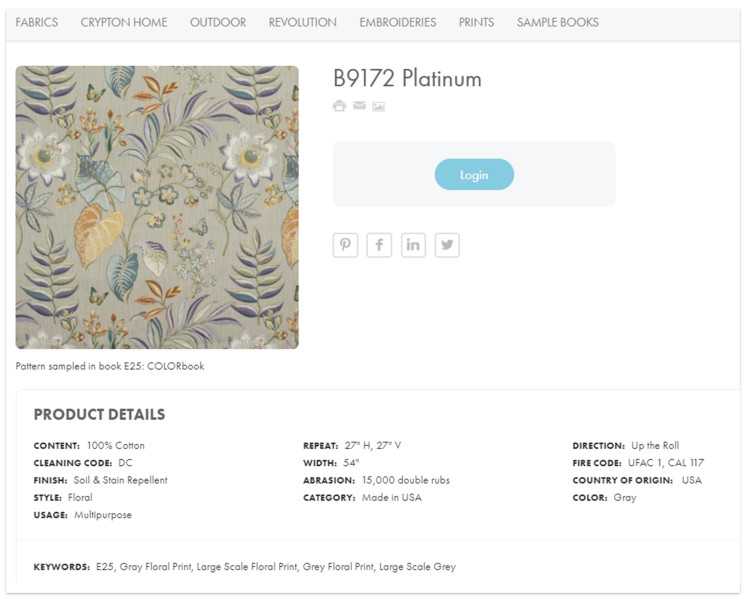 I used to take pictures of my selections using the print screen key on my keyboard and then pasting it into a slide to send to my clients, not very professional and way too many steps. Using the My Boards tool on the Greenhouse Fabrics website is much easier. You can create individual boards for each project. When you find a fabric you'd like to add, simply click the "Add to My Board" button. To email the board to your client, click the "Share Board" button. Simply, enter your client's email, and you have started the process of romancing your client and their home. 

Another great tool to begin the design process is a Story Book Template like the one I designed below. Just save the fabric images to your computer, open up the template, and paste the fabric into the square of your choice. If the client decides to make any changes, just drop a new image on top of the old one.  It is easy and gives your client a good visual within hours of your visit.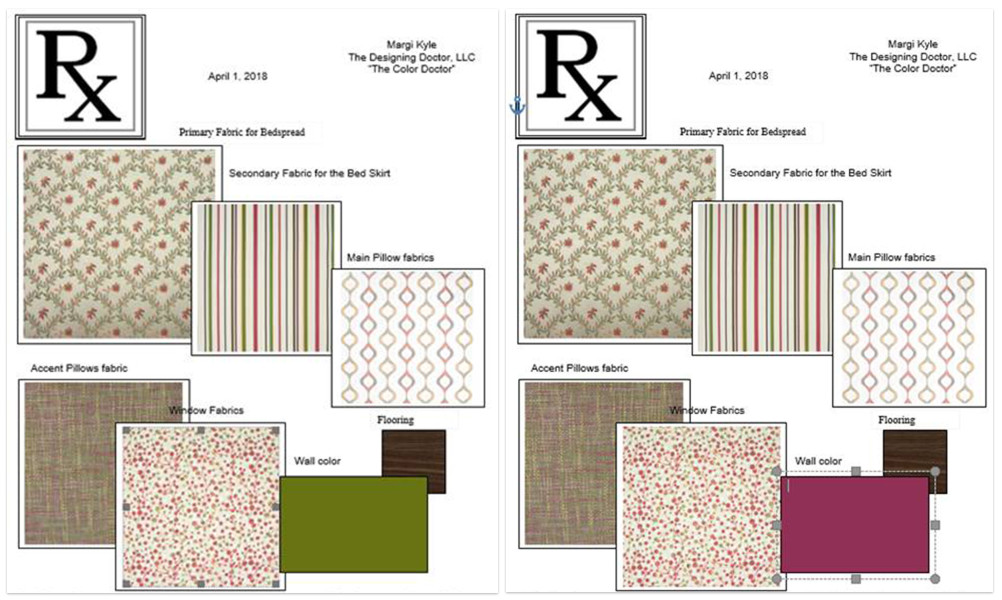 Once your client has received your emailed selections and is interested ordering memo samples, you can easily place an order on Greenhouse Fabrics website by clicking the Free Memo button. They guarantee same day shipping on orders placed before 3pm EST, so you can expect your samples to be at your door within a day or two. You also have the option to ship the memo samples directly to your client; however, I enjoy delivering the samples in person. It gives me another chance to explain why the fabrics work in their space.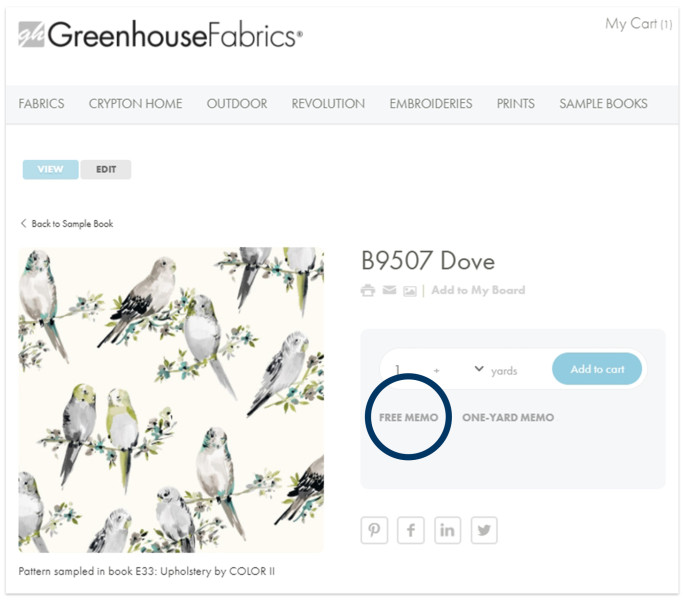 My last little tip that has worked well for me in the past is to brag about my resources.  When customers started shopping for product on their own, interior designers began using private labels to keep their resources a secret. Our clients couldn't shop what they didn't know.  I have always been proud of my resources and honored to work with to the trade companies. Greenhouse Fabrics is on top of their customer service game. When you call them, the first thing you hear is "It is a great Day at Greenhouse Fabrics, how can I help you?"  Now that's service with a smile!
The best type of advertising is word of mouth.  Give your clients a reason to brag about you!
To get inspired, Subscribe to our weekly blog.