Stay Up to Date on Pricing
by Greenhouse Fabrics on
Written by Kristen Cathell
Imagine this, an afternoon appointment, you spend 2 hours with your client digging through shelves of books, only to finally find the perfect shade of blue that matches her walls, other pieces of furniture and is approved by her daughter, cousin, dog…. You get the idea. Now after said client has left your building, you call up your fast and friendly account manager at Greenhouse to place an order, then horror of horrors you are told, "I'm sorry that pattern was dropped by the mill". How do you avoid this awful outcome?
Let me give you one more nightmare of a scenario. Again, you go through the selection process, customer sees the retail price sheet in back of the books, the job is paid for, finalized. When you call up Greenhouse Fabrics you are mortified to hear "I'm sorry but that price went up two years ago." How do you go back to that client and request more money after you agreed to a set price?
Well, we at Greenhouse dislike surprises as much as you do and that is why we try our best to keep you current on drops and pricing. Having 10,000+ fabrics can be cumbersome in way of keeping everything updated, but that is why we have a fabulous team who keeps you in mind.  We update our price sheets and drop lists every quarter. There have been and will be a few rare occasions that are beyond our control when a price changes or a pattern drops in the middle of the quarter.
The best way to verify a pattern's price and stock is to call us while you are with the client or check the website. If you are unable to do so, please download or print our quarterly updates under discontinued books (you will need to be logged in to see the price lists) on greenhousefabrics.com and keep this handy reference with you on all appointments.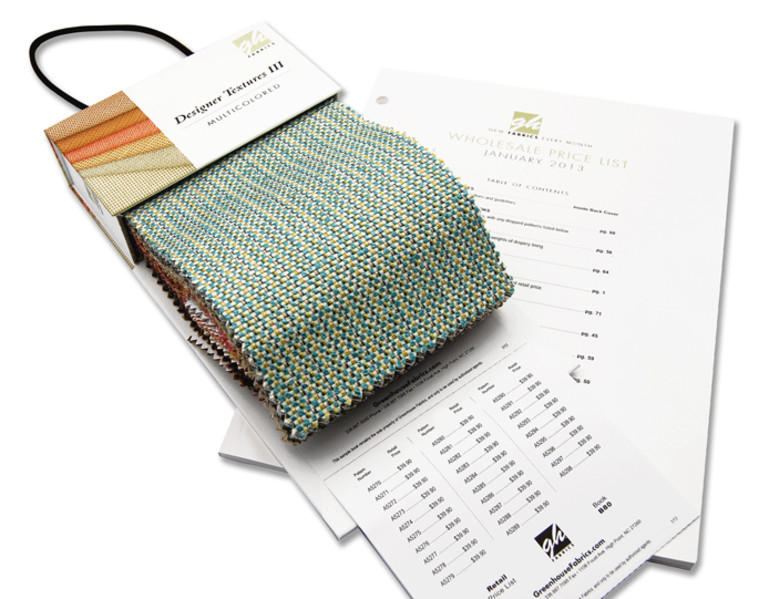 In summary...
Call Greenhouse at 866-755-5000 Mon-Fri 8am-6pm EST. A live specialist, who will give you friendly pricing and availability, will always answer you quickly.
After hours? Go to greenhousefabrics.com any time of the day to check stock and price
Don't use the web site? Call Greenhouse and we will gladly mail you an updated price and drop list.
And as always, Greenhouse will make it right with you! If a pattern has been dropped, we will research substitutes, get samples out right away to you and your client.  If a price has changed within the last quarter and you undersold the project, let your account manager know and we will honor the last quarter's pricing. We are here to make your fabric experience fast, friendly and fabulous. Stay up to date, discard old sample books and make fabric selling a breeze with Greenhouse Fabrics.