FR Codes, How Do I Know Which One?
by Greenhouse Fabrics on
By Kristen Cathell
Navigating the realm of fire codes, state laws and overall concern that each job is done to code for safety measures can be cumbersome. Below, we hope to clarify any confusion and answer a few questions along the way.
Fabrics that have a CAL 117, UFAC1 and NFPA 260 rating have been tested and passed requirements that meet or exceed strict flame resistance guidelines.  This information is provided on the back of each Greenhouse Fabric sample, both sample books and individual samples, and in the details listed for each fabric on our website.  Flame retardant fabrics are either inherently more resistant to fire due to yarns used in weaving and/or a flame retardant finish is applied after weaving. The flame retardant application is intended to reduce fire hazards, as all material will burn under certain circumstances. The flame retardant testing (coded as NFPA 701, NFPA 260, UFAC 1, etc.) shows the ability to resist ignition, flame size and duration. CAL 117 is commonly referred to for public places such as hotels, schools, places of worship and theaters. Many of Greenhouse's fabrics meet required FR Code standards. You can easily sort and search for your desired fire code by entering the fire code in the search field and then sort by color and type in the left-hand columns.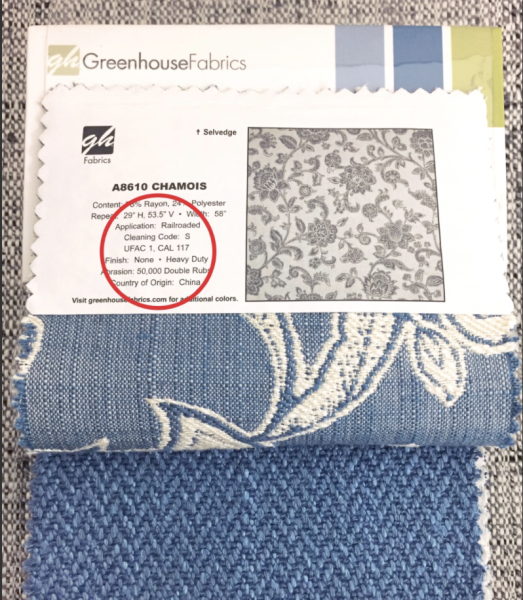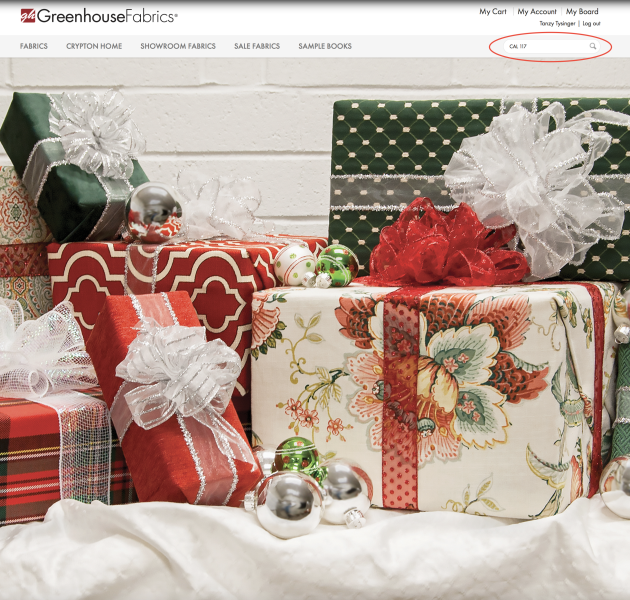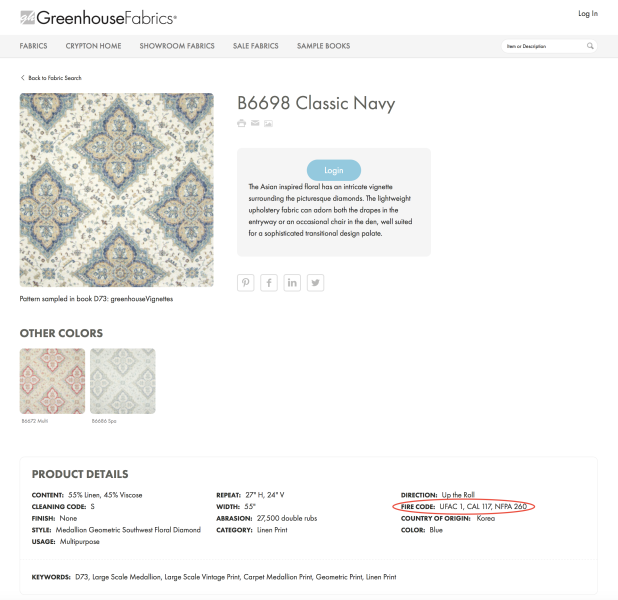 Generally synthetic fibers are more flame resistant than an untreated fabric woven with natural fibers. Today, many fabrics can be treated to make them suitable for the designed space and to meet the needs required. Finishing companies can apply a fire retardant coating, but Greenhouse Fabrics does not provide this service in house. We recommend two great companies that we have worked closely with and had many customers use as well.
For your specific needs, consider contacting your local fire marshall to see which codes are required.  For information on price and lead time for finishing, please contact your Customer and Fabric Specialist today. We look forward to helping you with your projects.