Color Proportion
by Greenhouse Fabrics on
Greenhouse Fabrics works with many talented interior designers, sewists, and upholsterers. As we discover new fabric styles, patterns, and colors, we look for ways to share our inspiration and love of fabrics. Kristine Robinson, owner of Robinson Interiors, is an award winning interior designer and educator with specialties in custom window treatments, color consulting, and antiques. Kristine has lent her innovative vision and distinguished design experience to creating beautiful, functional homes for clients across the United States for nearly 20 years.
Hi there, I'm Kristine Robinson, an interior designer in the suburbs of Philadelphia, PA and the lead interior design instructor for Temple University's interior design program. I've been asked to share some insight with Greenhouse Fabrics Blog readers about the best way to incorporate bold colored fabrics into your interior design.
First, I want to tell you that proportion of color in a room is everything!  My students will tell you that I frequently speak about this topic in my 'Successful Use of Color' class. What do I mean by proportion of color?  Basically, this is the ratio of multiple colors in your room's design. Take a look at the images below. Color Proportion refers to the the percentage of blue compared to the percentage of orange in these complementary color schemes.
Suppose you have an orange dominant space with 70% soft peach walls, an additional 10% represented by darker orange draperies, and only 20% of the space incorporates blue, found in the pillows, area rug, artwork, and accessories. If the colors were represented in equal amounts and with the same bold intensity the room wouldn't look nearly as balanced and inviting. The space would appear busy, giving your eye nowhere to rest. You may not know why the space didn't feel right, but you'd definitely feel uncomfortable and overwhelmed by the crazy color scheme.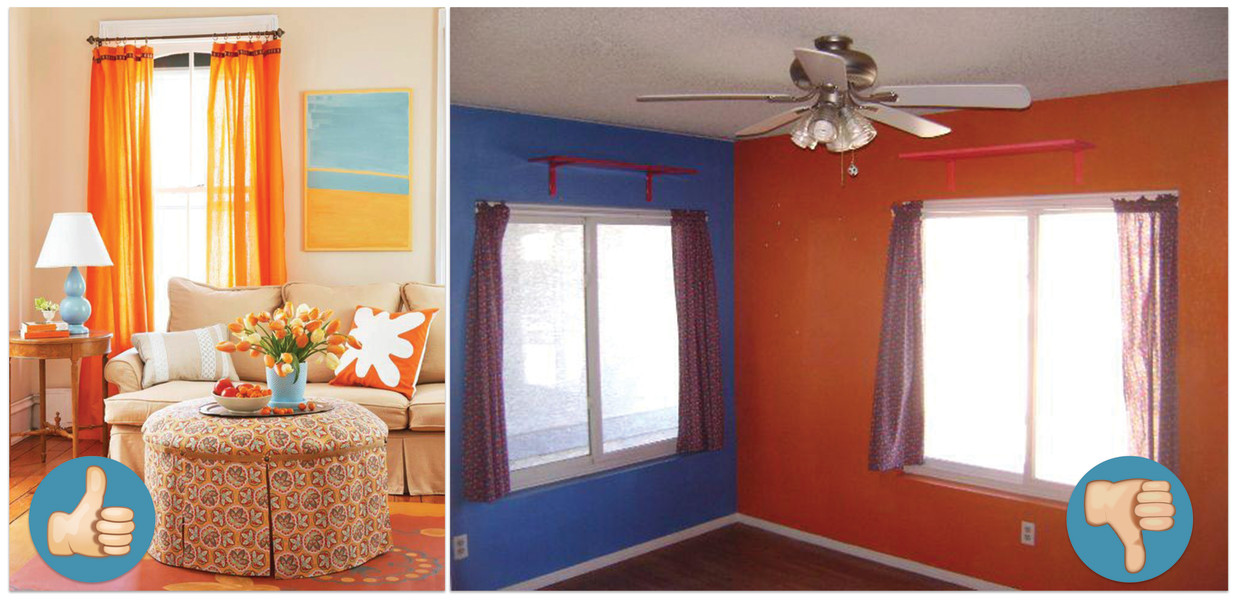 Wall color is often the highest percentage of color in a space. Since there is so much vertical surface area, that hue will usually be the dominant color in your space. In this instance, only one color needs to take charge and be the boldest or else the variety of colorful elements will compete with each other for attention. A scenario with too much strong color competition makes for an extremely busy room design. Trust me, you do not want too many loud colors shouting at each other all the time. Instead, choose one color to be dominant, in both intensity and quantity. Allow the other colors to take a back seat and support your overall color scheme.
Many super colorful rooms don't have much color on the walls at all!  In fact, if you're planning to use a very bold color in your room's design, it makes the most sense to paint your walls a light neutral tone and introduce color with your fabrics, rugs, and accessories.  For instance, some of the best blue rooms don't have blue walls at all!  Instead, they are mostly white with strong gestures of blue in the textiles and artwork.  Conversely, if you're using a bold hue with paint color on the walls, use a light neutral or even white fabric on your draperies and other furnishings to create some relief from the intense surface color.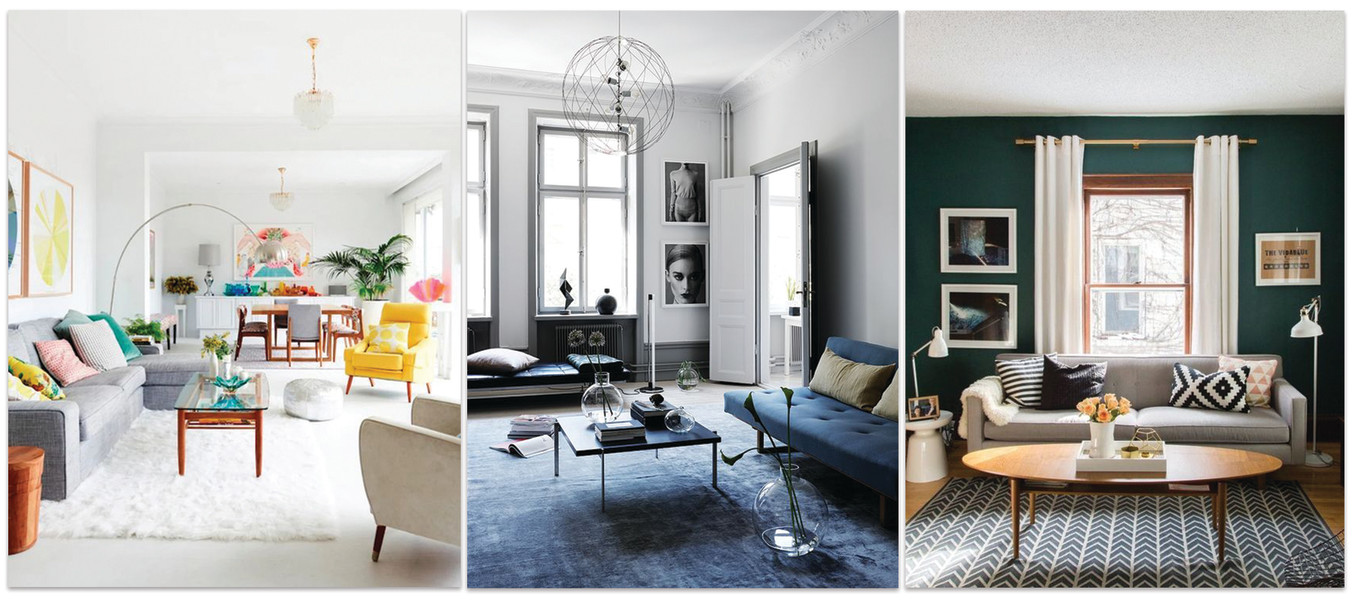 Don't get me wrong, there are so many amazing colorful spaces with bold wall colors and exciting vivid color combinations. As a professional interior designer I adore those types of spaces!  It's just so much more challenging to achieve the right balance in those spaces and requires a great deal of skill on the part of the designer. There are an enormous amount of elements that come into play in a room's overall design and the nuances of color proportion must be purposefully considered to achieve the appropriate balance in a well-designed space.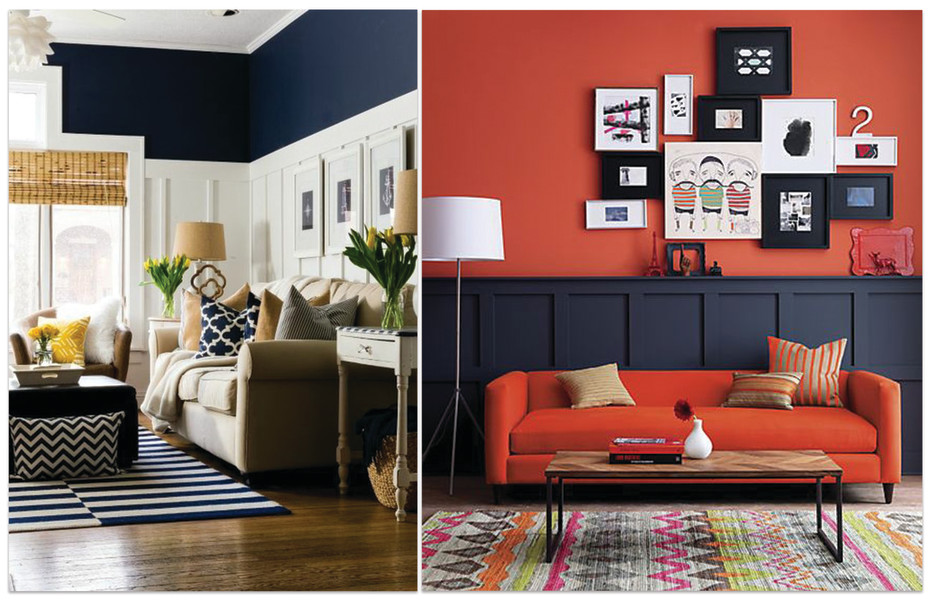 So for those of you who might be fearful of choosing just the right wall color for your next design project, but still want an exciting and colorful, even trendy space, I urge you to instead use bold color in your textiles. Colorful pillows, window treatments and even upholstered pieces, like occasional chairs or window seat cushions, will provide that invigorating infusion of color you're craving. Greenhouse fabrics has a magnificent variety of textiles, both solid and patterned, which will enhance your next interior design project using exactly the right proportion of color! Their color search tool is a feature of the Greenhouse Fabrics website I use repeatedly when researching the perfect materials for my client needs.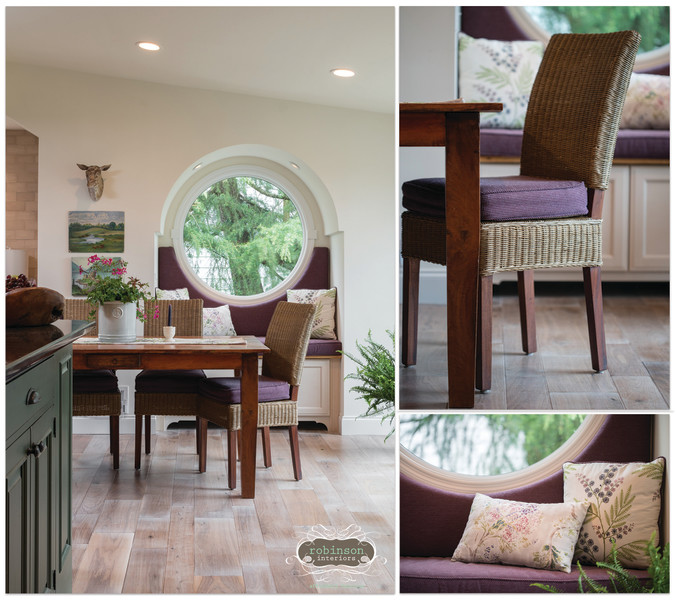 A light wall color with just a touch of green undertone provides a neutral backdrop for bold pops of purple in this English cottage breakfast room designed by Kristine Robinson of Robinson Interiors. Layered neutrals add visual texture and interest to the purple and green color scheme in the breakfast area. Wicker chairs and an antique farmhouse table lend a cottagey touch to the charming space. Bold purple on the seat cushion and padded backrest, are enhanced by a floral print and an embroidered botanical fabric on throw pillows in this cozy round window seat. 
To create a similar look, try incorporating these fabrics into your interior space.