Beach Inspired
by Greenhouse Fabrics on
Greenhouse Fabrics is happy to host guest blogger, Denise Wenacur. Denise is Principal and Sr. Designer at DW Design and Décor LLC in New York. Denise has been featured in several books and magazines including Westchester Home, Design Bureau and Home Accents Today. In today's blog, you are in for a treat as she shares her recent beach inspired project.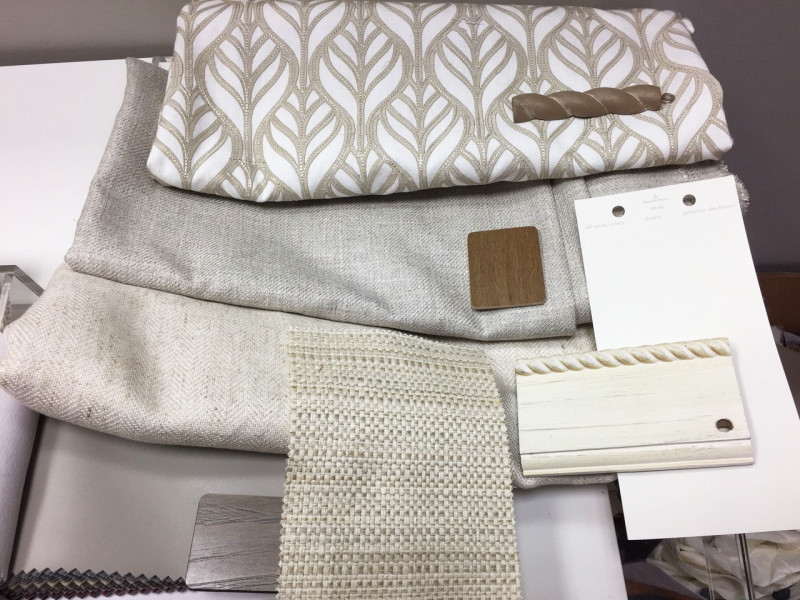 written by Denise Wenacur
The owners of this beautiful 8,000 square foot home in Westchester County, NY love clean, organic materials and colors. The Design direction is a sophisticated, relaxed, natural, slightly 'Beachy' look!  
Furniture plans with 3D views were created to help understand new furniture placement and layouts for maximum seating for the Living Room and Solarium. The large bright Solarium received a new built-in bookcase and new window treatments to maximize the views of the landscape.
The flat Roman blinds in the Solarium were positioned just below the crown molding and just below the top window trim so as not to block the outdoor views in any way. We utilized pattern B8024 Sand for its soft geometric embroidered pattern with a soft linen background. We have seen many embroidered linen fabric options lately and we think it gives our projects an elegant alternative to printed fabrics. Our workroom, Leatherwood Design Co. created a roman blind that was a continuous 158" for the longer window wall! The fabric was railroaded with no visible seams. Her detailed approach to creating this large piece is noted in her blog.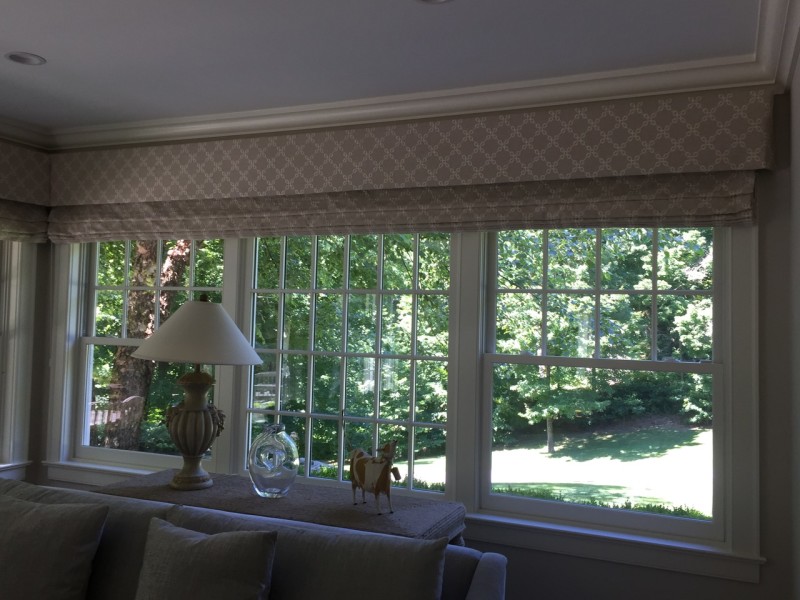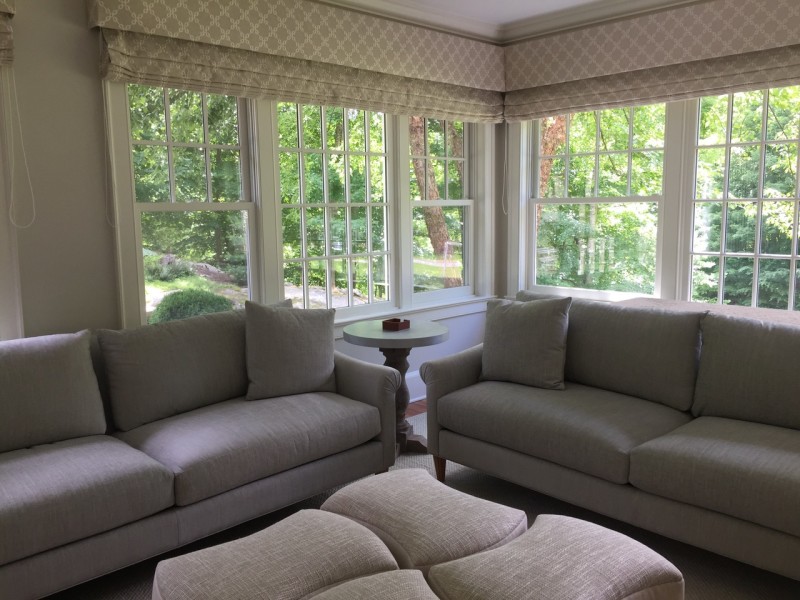 For the two matching couches, we used a soft Chenille pattern, B8088 Mist. We loved its subtle pattern and soft nap. Our two-tone puzzle ottoman utilized a more textured pattern A8293 Flax on the top, and a smoother, organic cotton/linen pattern B2855 Harvest for the sides to maintain a tranquil look throughout the room. All fabrics were scotch guarded prior to installation for a little extra stain protection.​
The Living Room leads directly from the Solarium maintaining a consistent soft textured pallet color harmony. We fell in love with pattern B8022 Beige for the 5 sets of draperies panels in the large turret. The contemporary natural leaf pattern has laser cut looking fabric detail giving the edges depth as it rests against the underlying background fabric layer. Geometric patterns continue to remain a trending option in our project solutions. To soften and complete the turret windows, we selected soft sheer pattern B4421 Silk for the relaxed roman blinds to subtly diffuse light. It is hard to believe it is 100% polyester as it looks and feels exactly like silk.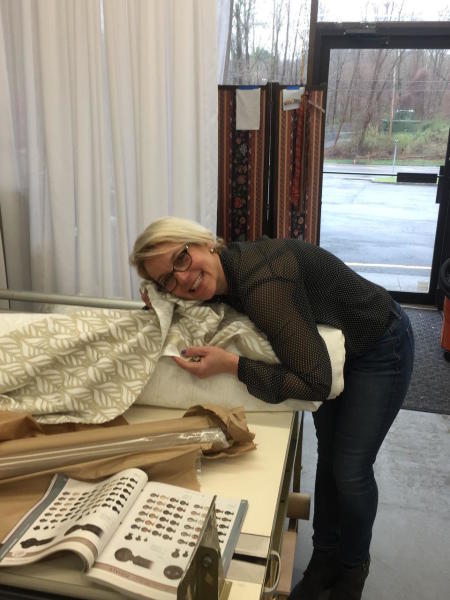 Our upholstery fabric for the Living Room reads more like subtle textured solids to allow the focus to stay on the graceful lines of the furniture frames. For the couch, we used pattern B5821 Fog and the two chairs pattern B5810 Ivory. We loved the look, color, and function of the faux leather pattern A9234 Ash for the round ottoman! It is so soft, no one has to know that it is not real leather as is 100% polyurethane. Since this room will get as much family use as other parts of the home, this choice will withstand resting of legs on its perimeter and liquids in the center tray.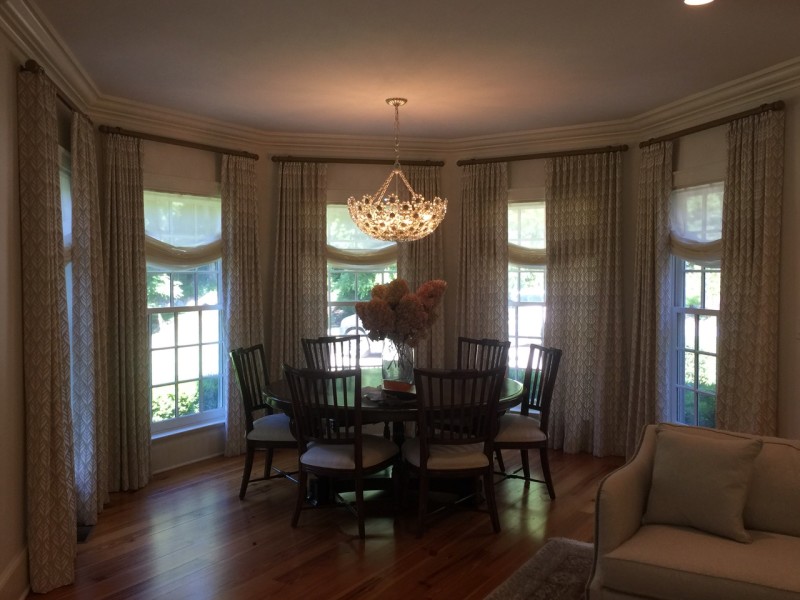 Our last selection for this room was the fabric pattern B5606 Pearl for the slip seats around the roundtable. Frequently used for card games and family fun nights, the chair seat material is high-performance CRYPTON® known for its stain resistance and durability. However, they are soft and comfortable for sitting many hours and still maintain an elegant look for our Living Room.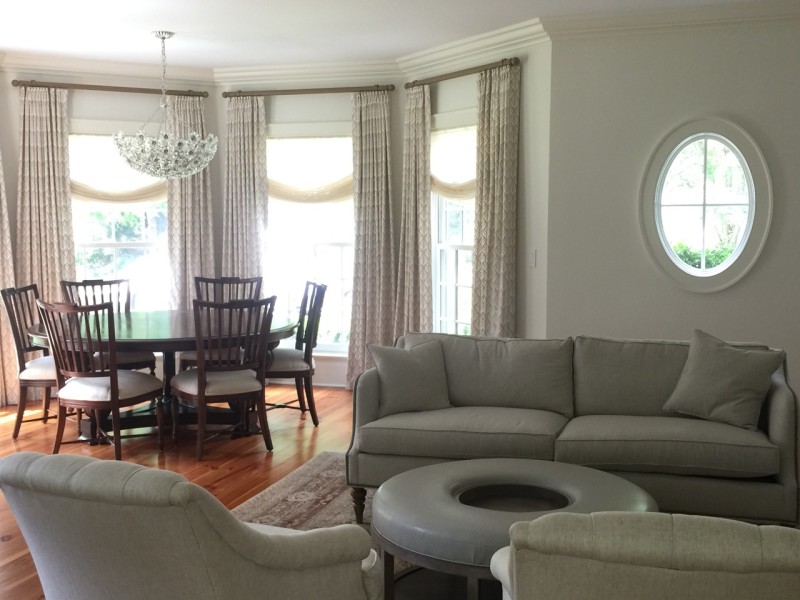 We are pleased to have been able to create the perfect atmosphere for this family to enjoy time together with fabric choices that are both beautiful and functional! See the before and after photos here. 
~ Denise Wenacur
Greenhouse Fabrics utilized in this project: 
SOLARIUM 
LIVING ROOM